Get in touch with us to see how we can help
Start your claim today

0800 285 1266
Hair Injuries: A Comprehensive Guide
There is no time limit to the distress and physical discomfort we can experience following a bad experience at a hair salon. Whether you have only just left the hairdresser's chair or, alternatively, feel as though you are currently experiencing the long-term ramifications of negligence or oversight, dealing with a hair injury can represent an incredibly difficult time in your life.
Beyond the physical and mental impact, of course, feeling as though you have a legitimate claim against your hair stylist is not always easy. For many of us, and in spite of the issues we face after returning home from the salon, it is all too easy to write off our feelings. "It's just hair," we tell ourselves. "It will grow back eventually."
Even if this is true, a single mistake can take years to rectify. Given the significance so many of us attribute to our hair and general appearance, we impart a great deal of trust to hairdressers – and, when this trust is broken, the consequences can be severe.
Following a hair injury, the most important thing you can do (besides seeking necessary medical attention) is to understand the gravity of what has happened. For that reason, we have put together a comprehensive guide to what factors constitute a hair injury – and why you could be well-advised to pursue a legal claim against the salon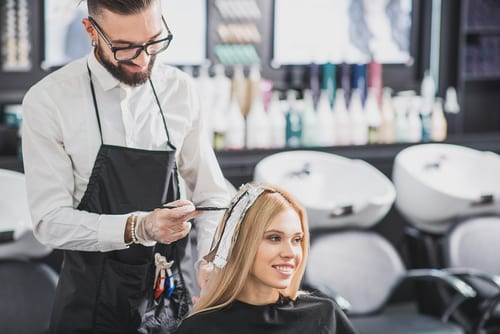 Hair Injuries: An Overview
Hair is an incredibly complex subject. For hairdressers, the profession represents a highly subjective field, and, at the same time, a discipline rooted in logic, technique, precision and a practical understanding of chemical processes and biology.
For those who sit in the chair, rather than behind it, hair retains both a symbolic and practical significance in our lives. While our tastes vary significantly, we all arrive at the salon with a common goal – to leave it feeling healthy and happy with the treatment we have received.
Unfortunately, this isn't always the case. There is a great deal that can – and does – go significantly wrong, whether we spend minutes or hours in the chair. Human error, negligence or a failure to do due diligence can all result in major issues for hairdressing clients.
From the stress of dealing with the emotional upheaval of dealing with damage, to the pain, discomfort and long-term health consequences of negligence, the term 'hair injury' applies to all manner of experiences, which we will explore in more detail below.
Allergic Reactions
There exists a long list of chemicals that are used in hair products –either for their efficacy, or for the sake of economy – even in spite of the fact that some have long-since demonstrated their propensity to cause significant reactions in users.
Perhaps the most notable example of this is PPD, or paraphenylenediamine – a compound most commonly used in darker, permanent dyes – which has been demonstrated to pose a risk of potentially significant allergic reactions when used in contact with the scalp. Allergic reactions can range from mild irritation that passes shortly after treatment is stopped, to incredibly serious, lifelong conditions, such as non-Hodgkin lymphoma. Even for 'milder cases', however, symptoms can include:
Blistering
Rashes and inflammation
Cracked and itchy skin
Swelling, on and around the face
Damage to the follicles, leading to hair loss or, in extreme cases, baldness.
Hypopigmentation
The only ways to safeguard against these issues is for hair stylists to maintain full transparency around the ingredients used within their products, and to carry out a skin patch test prior to treatment. Unfortunately, these essential steps are all too often overlooked. Some hairdressers may also call upon the results of a past patch test, but this is also ill-advised, as continued exposure can lead to a significant allergy that did not exist before (sensitisation).
Other common allergens include:
Hydrogen Peroxide
Arguably one of the most familiar ingredients used in hair products, H2O2 is colloquially referred to as bleach, and is most commonly used when clients want to lighten their hair. With regular or improper use, it can cause lasting damage to hair quality (more on that below) – and, while they are less common than PPD sensitivity, allergic reactions to hydrogen peroxide can occur.
Again, ensuring proper testing prior to treatment – and, by extension, avoiding a significant hair injury – is the hair stylist's responsibility.
Ammonia
Much like hydrogen peroxide, ammonia poses a risk to the client's hair health if used improperly. It can, however, also invoke an allergic reaction that causes issues for the skin and respiratory system, and must be treated with due caution at all times.
Bonding Agents
All manner of issues can arise if the stylist applying hair extensions to the client's head is not qualified to do so, but one of the costliest can be failure to test for a sensitivity to the bonding agent being used to apply the wefts to the hair. Alternatively, poor application can lead to unwanted contact with the scalp, causing contact dermatitis.
Latex
The use of latex gloves is significantly lower than it once was, due to the prevalence of latex allergies (both in salon workers, and their clients). Still, it has not been eradicated entirely, and can cause significant issues – particularly when used alongside the harsh or irritating chemicals found in hair dyes and other products – if an allergy exists.
Hair Extensions
Most of us are, by now, aware of the explosive popularity of hair extensions. Whether clients wish to add volume or length, synthetic or human hair extensions have come to represent a mainstay of many salons across the country.
They do, however, represent a highly specialised venture for salons – although their use remains unregulated in the UK. What this means is that many clients invest a great deal of time and money into having these extensions bonded to their hair, only to find that corners are being cut and, as a result, significant (and lasting) mistakes are being made.
In an ideal scenario, hair will be carefully sectioned, and individual wefts will be bonded carefully near the root using a special adhesive agent. This requires a great deal of precision and, if done incorrectly, the bonding agent easily cause scalp irritation. Alternatively, the wefts can pull on the hair and cause traction alopecia (baldness).
Obviously, this is incredibly distressing for clients. Hair takes years to rectify and, during that regrowth period, men and women can experience profound emotional strain, loss of confidence, and distress.
Hair Colouring
Permanently, or even semi-permanently, altering our hair's natural colour (whether we go darker, or lighter) is something that must always be carried out by an experienced and competent colourist, in order to avoid significant damage to the hair. Bleaching, for instance, is well known to be damaging to the hair follicle, but a lack of experience or practice-based knowledge will almost inevitably lead to significantly more damage than is necessary to achieve the desired results.
The chemistry behind colouring demands a great deal of precision, and perhaps one of the most common issues to arise is improper preparation of colouring solutions. When this happens, it can be the case that a higher concentration of harsh or damaging chemicals is used – and, when applied to the head, severe skin reactions or lasting hair damage occurs.
Similarly, even when mixed correctly, these solutions must never be left on the client's head longer than necessary. If the colourist neglects to return to their client at the right moment, the client may suffer damage to the scalp and hair.
While hair damage does not represent a medical emergency, the emotional toll it causes is now taken very seriously in the eyes of the law. From hair loss to breakage and dryness.
Health and Safety
Unlike other areas of the beauty industry, hair salons are not subject to any specific standards for hygiene, despite the fact that the potential for infection or exposure to hazardous chemicals exists – and could cause lasting issues for clients.
It might be that you were positioned in close proximity to hazardous chemicals, in a poorly ventilated area of the salon, and suffered illness after breathing in the fumes during the course of your appointment. Alternatively, you might have been splashed – or the stylist may have used equipment that was contaminated.
In a similar vein, salons maintain a certain level of responsibility to maintain a clean environment in order to mitigate the spread of infection. From highly infectious skin conditions and fungal infections to common viruses, proper cleaning procedures between patients is vital to ensuring that clients do not experience any negative consequences to visiting their salon.
The best precautionary measure any of us can take is to look for salons that have received approval from the Hair and Beauty Industry Association, or HABIA, who invoke the highest standards for the beauty industry.
Stylist Error, and Hair Injury Claims
Hair stylists maintain a duty to their clients, and it is imperative that they meet a certain standard of health, safety, care and attention each and every day. The sheer number of potential hair injuries is testament to quite how committed stylists must be to training and expertise – and, to those who have suffered following a visit to the salon, a reassurance that your emotional and/or physical distress needn't be swept under the rug.
From permanent injury to ongoing mental health issues, the items in this article constitute personal injuries, and entitle you to compensation in keeping with the error committed.
At Shires Law, we hold a wealth of experience in hair injury claims, and understand quite how far-reaching the impact of stylist errors can be for you. If you think you might have a claim, then get in touch with us today, and we will get back in touch to talk through the specifics of your case.
Contact us Today
If you want to speak to a caring but professional law firm who always puts you first, you should call us on 0800 285 1266 or complete our Free Online Enquiry Form and we'll be in touch shortly