Get in touch with us to see how we can help
Start your claim today

0800 285 1266
Shires Law accident solicitors have many years of experience dealing with slip and trip work accidents and can help you receive financial compensation for the suffering caused by your injury. We operate on a No Win No Fee basis, you will not be out of pocket whether you win or lose. There is also no risk you will lose your job, as sacking someone who making a personal injury claim is against UK employment law and would be considered unfair dismissal.
Approachable and professional personal injury law firm
focusing on the individual
Experienced team of personal injury solicitors
Face to face consultations
Operate on a No Win No Fee basis
What's the process of making an accident claim with Shires Law?
One of our experts give you a quick call to get the information they require
We evaluate your case and begin to proceed on a no-win no-fee basis
If successful you receive a cash sum. You could receive up to £8,000
If you've been injured through slips and trips in the workplace your life could be severely affected.
Slips and trips can result in injuries that not only cause you pain and discomfort but could also affect your ability to do everyday things and get on with your life. Slips and trips at work are often caused by inadequate risk assessments or employers not adhering to safe working methods and processes. If the slip or trip was not your fault, you are entitled to compensation for your injuries, potential loss of earnings and other consequential losses.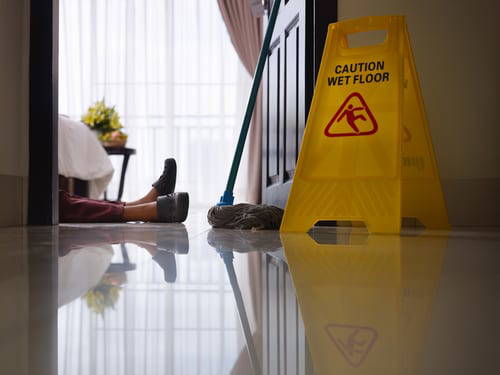 Symptoms
Examples of some common injuries caused by slips and trips in the workplace:
Sprains
Fractures
Back injuries
Shoulder injuries
Lacerations
Concussion
Injuries such as these can cause:
Severe pain and discomfort
Sleeplessness
Curtailment of normal activities
Financial losses
How much could I claim?
Compensation for your trip claim will depend on the severity of your injury. Common injuries such as a fractured collarbone or ankle could mean a payout of between £3,500 and £8,000 and a sprained ankle (where recovery is likely to be within a year) could lead to a payout of around £3,000.
How long will it take?
Again, this depends on the seriousness of the injury you've suffered. We will arrange for you to see a specialist doctor to assess your injuries. When we've got a diagnosis and prognosis from them, we can begin to discuss a settlement with the other side. As a rough guide, although a trip claim for a serious injury could take longer, a trip claim for a less serious injury might be dealt with within 4 or 5 months.
How do I make a claim?
Our advisors are on hand to help, to get started with your claim get in touch with us by calling 0800 285 266 or via our Live Chat facility.
What should I do if I am injured in a machinery accident?
Ensure all accidents at work are reported to the person responsible for health and safety on site.
Record all injuries in the Accident Book for future reference.
See a doctor or attend hospital, no matter how minor your injury.
Keep a diary of your injuries. Record your pain levels, incidences of sleeplessness and difficulties completing everyday tasks. Write down any activities that have to be undertaken by other family members because you can't manage them.
Keep a record of any financial losses caused by your injury. For example, loss of income; mileage travelled to the GP; the cost of employing a gardener.
Get in touch with the Department for Work and Pensions, who can advise you about any benefits you may be entitled to claim.
If you need rehabilitation or physiotherapy, we can provide and an Immediate Needs Assessment and the appropriate treatment on a private basis.
*As experienced solicitors, we fully understand that you might experience some financial hardship as a result of an accident. We may, therefore, be able to offer you £250.00 advance on your compensation to help you over this period. This sum would be advanced to you as soon as liability for your accident is admitted and would be deducted from the compensation you recover at the end of your claim.
Contact us Today
If you want to speak to a caring but professional law firm who always puts you first, you should call us on 0800 285 1266 or complete our Free Online Enquiry Form and we'll be in touch shortly