Get in touch with us to see how we can help
Start your claim today

0800 285 1266
Shires Law specialise in cases of compensation for injuries at work. We operate on a No Win No Fee basis, you will not be out of pocket whether you win or lose. There is also no risk to your employment, as sacking an employee for making a personal injury claim is against UK employment law and would be considered unfair dismissal.
Approachable and professional personal injury law firm
focusing on the individual
Experienced team of personal injury solicitors
Face to face consultations
Operate on a No Win No Fee basis
What's the process of making an accident claim with Shires Law?
One of our experts give you a quick call to get the information they require
We evaluate your case and begin to proceed on a no-win no-fee basis
If successful you receive a cash sum. A small claim could land you £4,800
What defines a machinery accident?
Injuries from machinery accidents come in many forms and year after year there are numerous recorded injuries and fatalities; it is important that employees are protected when operating machinery. No matter what your injury, there is a good chance that it has had a negative impact on your life and if it was not your fault then it is your legal right to claim compensation for your injuries, loss of earnings and other consequential losses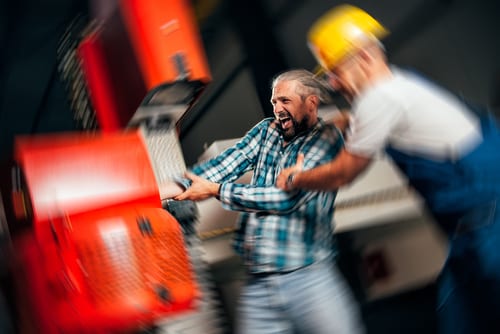 Common Causes
The main causes of machinery accidents arise from:
Employees not being fully qualified or trained
Failure to supply adequate or correct safety equipment
Working with faulty or unmaintained machinery.
Symptoms
Common Injuries include:
Crush type injuries
Lacerations
Upper limb injuries
Eye and facial injuries
How much could I claim?
As with most claims, the amount you receive will depend upon the severity of your condition, different injuries result in different amounts of compensation. For example, at the upper end, an amputation such as the loss of one arm below the elbow would result in compensation between £63,000 and £72,000, whereas a simple Colles fracture of the forearm in the region of £4,800. If you would like an estimation of your injury then call our machinery accident lawyers today.
How long will it take?
The length of your claim can be determined by a variety of circumstances, such as the level of your injury or whether the other party admits fault. As a general rule, less severe cases can usually be closed within a matter of months, whereas a more serious injury will take longer. However, no matter what your injury, rest assured that our lawyers will work tirelessly to complete your machine accident claim as efficiently as possible.
How do I make a claim?
Our advisors are on hand to help, to get started with your claim get in touch with us by calling 0800 285 266 or via our Live Chat facility.
What should I do if I am injured in a machinery accident?
All incidents should be reported to the relevant personnel (i.e. health and safety officer or HR department)
Any personal injury needs to be logged in your companies accident or incident book
See a doctor immediately and get a professional assessment of your injuries
Keep a diary of your injury, include things such as pain levels, ailments, sleeplessness or activities you find you can no longer carry out
Keep a strict log of any losses incurred during your claim or as a result of your injury
If physiotherapy or rehabilitation is required due to a machinery accident, we can provide you with an Immediate Needs Assessment and make sure you receive the required rehabilitation quickly and on a private basis.
Contact us Today
If you want to speak to a caring but professional law firm who always puts you first, you should call us on 0800 285 1266 or complete our Free Online Enquiry Form and we'll be in touch shortly