Get in touch with us to see how we can help
Start your claim today

0800 285 1266
It is easy to be embarrassed about hearing loss and many people try to avoid dealing with the fact that their hearing is getting worse because they think it is because they are ageing. But what if your hearing loss is directly because of the job you have been doing?
Approachable and professional personal injury law firm
focusing on the individual
Experienced team of personal injury solicitors
Face to face consultations
Operate on a No Win No Fee basis
What's the process of making an accident claim with Shires Law?
One of our experts give you a quick call to get the information they require
We evaluate your case and begin to proceed on a no-win no-fee basis
If successful you receive a cash sum. A pay out could be over £2,500
If you have been working in a noisy environment such as a factory, or using noisy tools like a pneumatic drill, then you may be able to make a claim against your employer for industrial deafness.
We do understand the impact that hearing loss will have on your life and that it is hard to come to terms with, especially as your hearing loss is linked to your job but we can help you to make a claim for compensation.
What Is Industrial Deafness?
There are four types of industrial deafness, and they are:
Temporary hearing loss – this is caused by being in a noisy environment without proper ear protection for a short period of time. A lot of people will have suffered from this after going to a concert or standing next to the speakers in a club. Your hearing will be muted and muffled for a time afterwards, but as long as you move to a quiet place so your hearing can recover, there should be no permanent damage. If you do continue to expose your ears to this level of noise with no protection, you may do permanent and irreversible damage to your hearing.
Permanent hearing loss – this is where you have had exposure to loud noise for long periods of time without proper ear protection. Once you have permanent hearing loss, you will not be able to get this function back, it is likely to get worse.
Tinnitus – a condition which means that you can hear ringing, buzzing or whistling in one or both of your ears. This can come and go, or be there permanently. You may even think that the ringing or buzzing is actually an external noise before you have been diagnosed. Again, there is nothing you can do to relieve this condition once you have it and it can be very debilitating.
Acoustic Shock – this can happen with a very loud noise happening near you and in extreme cases can cause the eardrum to perforate. Call centre workers may suffer from this condition if there is loud feedback or a malfunction in the telephone headset they are wearing.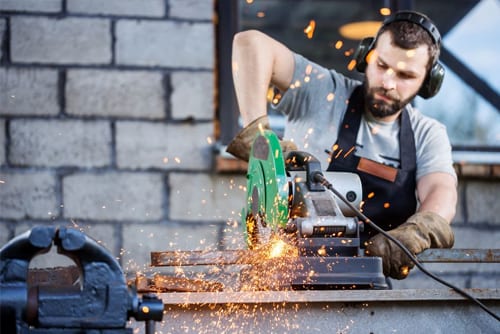 How Can Shires Law Help You?
We know how upsetting it will be for you to try to come to terms with your condition, but we can help to take the stress out of making a claim and get you the compensation you deserve.
Making a claim may seem like a complicated and drawn out process but we will do all we can to make it as stress free as possible. It is really important that you understand exactly how it works, so we won't use legal jargon, just plain and simple language.
We are a small firm by choice and we only employ qualified solicitors to deal with your claim, unlike the large firms who employ unqualified 'claims handlers'. We know how important it is to get to know you and how your condition affects you, so we would like to meet you if we can. We also offer all our clients a free consultation to help us to be clear about where you stand legally and so you can make sure that you are happy for us to represent you.
Following a recent law change, you are now not able to recover all of your legal costs from the other side. You can get most of them back though and you should not let this deter you from making a claim for the compensation you deserve. You won't have to pay a penny until your claim is brought to a conclusion.
Contact us Today
If you want to speak to a caring but professional law firm who always puts you first, you should call us on 0800 285 1266 or complete our Free Online Enquiry Form and we'll be in touch shortly