Get in touch with us to see how we can help
Start your claim today

0800 285 1266
If these criteria sound like something you are experiencing then Shires Law can help, as we are experts in stress related compensation. We operate on a No Win No Fee basis, you will not be out of pocket whether you win or lose. There is also no risk to your employment, as sacking an employee for making a personal injury claim is against UK employment law, and would be considered unfair dismissal.
Approachable and professional personal injury law firm
focusing on the individual
Experienced team of personal injury solicitors
Face to face consultations
Operate on a No Win No Fee basis
What's the process of making an accident claim with Shires Law?
One of our experts give you a quick call to get the information they require
We evaluate your case and begin to proceed on a no-win no-fee basis
If successful you receive a cash sum. You could receive over £12,000
Stress can be caused by a variety of factors; from abusive co-workers to high pressure to succeed. It is your employer's duty to provide you with a safe place to work and as stress free an environment as possible.
Stress and abuse claims can be difficult, it is important that the injured party can show a number of factors that have contributed to their illness.
In order to make a claim you must be able to illustrate that;
your employer failed to provide you with a safe working environment
that the occupational stress or abuse was such that it should have been apparent to your employer
that your employer did not do everything within their power to prevent the occupational stress or abuse
that you have suffered a physical condition as a result of the working environment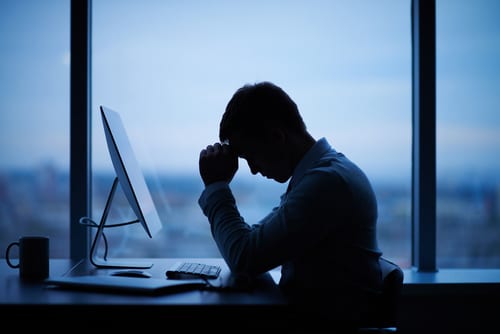 Common Causes
Stress and abuse can be caused by a variety of factors, including:
Long hours
Isolation
Abusive co-workers or employers
Harassment
Symptoms
Stress and abuse can manifest itself in a number physical of ways, such as:
Ulcers
Heart conditions
Persistent headaches
As well as psychiatric symptoms, some of which are:
Anxiety
Depression
Post traumatic stress disorder
It is hard to tell how stress and abuse in the workplace will affect an individual, if your ailment is not listed here it does not mean you do not qualify for compensation, our lawyers are experts in working stress related compensation and are on hand to help with advice more specific to your case.
How much could I claim?
There is no set amount for compensation. Where it can be proven that work-related stress has occurred and resulted in long-standing disability that has prevented a return to comparable employment, then you may be able to expect compensation between £12,000 and £36,000 in damages.
Length of claim
The length of the claim is dependent on the specifics of your particular case; there is a strong need for psychiatric evidence as well as the analysis of medical records and because of this cases can become lengthy battles for compensation. However, if the factors of the case are favourable and the other party swiftly admits liability then cases can be closed and compensation awarded without any undue delay.
How do I make a claim?
We are on hand to help you with your stress workers compensation claim, start immediately by calling us on 0800 285 266 or via our Live Chat facility.
What should I do if I am injured in a machinery accident?
Retain any of the following:
Any evidence of exchanges relating to your ailment, workload or abuse with your manager/managers (i.e. Email exchanges)
Complaints made by yourself or co-workers regarding workloads or other factors relevant to your condition
Contact information for any supportive witnesses
Staff appraisal forms
Dates and summary of any meetings you have had with your employer about your workload or condition
If physiotherapy or rehabilitation is required due to stress in the workplace, we can provide you with an Immediate Needs Assessment and make sure you receive the required rehabilitation quickly and on a private basis.
Contact us Today
If you want to speak to a caring but professional law firm who always puts you first, you should call us on 0800 285 1266 or complete our Free Online Enquiry Form and we'll be in touch shortly