Get in touch with us to see how we can help
Start your claim today

0800 285 1266
Cruise ship illness or injury
Shires Law can help you with your food poisoning abroad claim, we operate on a No Win No Fee basis, you will not be out of pocket whether you win or lose.
Approachable and professional personal injury law firm
focusing on the individual
Experienced team of personal injury solicitors
Face to face consultations
Operate on a No Win No Fee basis
What's the process of making an accident claim with Shires Law?
One of our experts give you a quick call to get the information they require
We evaluate your case and begin to proceed on a no-win no-fee basis
If successful you receive a cash sum. You could receive up to £17,500
The most common forms of food poisoning are E-Coli and Salmonella; fortunately most cases result in mild forms, those that you can recover from within a few days, however some cases do present more serious symptoms. It is quite common for a group of people to experience food poisoning after dining in the same establishment. Negligence in preparing your food correctly resulting in food poisoning abroad is not acceptable and we can help you to claim compensation for your illness.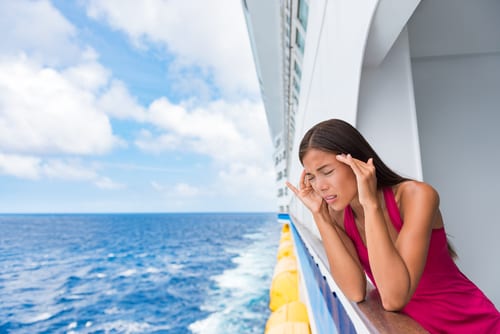 Common Causes
There are various causes for cruise ship injury/ illnesses, a few common ones are:
Unsafe or slippery surfaces
Undercooked or poorly prepared food
Unsecured/ falling objects
Symptoms
Accidents that commonly arise form these causes include:
Breaks and fractures
Head Injuries
Food poisoning
There are many other types of potential accidents that could cause a cruise ship injury or illness and qualify you for cruise ship compensation, get in touch with our lawyers today for an assessment based on your particular circumstances.
How Much Could You Claim?
The compensation you will be entitled to is widely dependent on the injury or illness you sustained and the manner in which it happened. An example of compensation an individual would be likely to receive for a fractured ankle that is making walking difficult would be between £8,700 and £17,500, whereas a minor undisplaced fracture to the wrist could result in around £2,300 to £3,125.
Length Of Claim
The normal time period by which an individual can claim for cruise ship compensation is 3 years under the Package Travel Regulations, however if the claim is to be brought in terms of The Athens Convention claims for a cruise ship injury or illness would have to be made within 2 years from the date of the injury. The length of your claim will also be dependent upon the injury or illness you suffered and the circumstances of the accident.
How do You make a claim?
We can help you with your food poisoning abroad claim; our advisors are on hand to talk to you by calling 0800 285 266 or via our Live Chat facility.
What You Can Do To Help Your Claim
Speak with a solicitor as soon as possible
If the injury was caused through a fall or unsafe surface, get pictures of the area
Record any witness details
Report injury or illness to the relevant member of staff on board
Seek medical attention as soon as possible for an initial professional diagnosis
If physiotherapy or rehabilitation is required due to your cruise ship injury or illness, we can provide you with an Immediate Needs Assessment and make sure you receive the required rehabilitation quickly and on a private basis.
Contact us Today
If you want to speak to a caring but professional law firm who always puts you first, you should call us on 0800 285 1266 or complete our Free Online Enquiry Form and we'll be in touch shortly