Get in touch with us to see how we can help
Start your claim today

0800 285 1266
Shires Law can help you claim for a cosmetic burn claim. We operate on a No Win No Fee basis, you will not be out of pocket whether you win or lose.
Approachable and professional personal injury law firm
focusing on the individual
Experienced team of personal injury solicitors
Face to face consultations
Operate on a No Win No Fee basis
What's the process of making an accident claim with Shires Law?
One of our experts give you a quick call to get the information they require
We evaluate your case and begin to proceed on a no-win no-fee basis
If successful you receive a cash sum. You could receive up to £6,000
Beauty salons present a variety of cosmetic burn hazards, including the chemicals used in procedures and hot liquids such as wax causing wax burns. It is your salons duty to make sure that you are safe whilst receiving beauty treatments by taking the utmost care with hot liquids and providing preventative measures, such as skin patch tests. If you have been burned due to neglect then Shires Law can help you claim compensation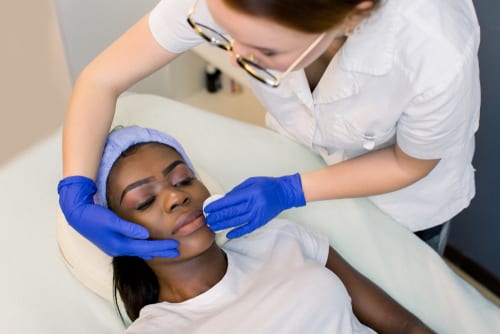 Common Causes
Common causes of cosmetic burns include:
Incompetent/undertrained beauticians
Lack of concentration whilst performing procedures
Neglect to carry out safety procedures (i.e. skin patch test)
Symptoms
Injuries that commonly arise include:
Burned scalp
Chemical burns
Scalds and burns
People affected by cosmetic burns are often left with scarring and disfiguring marks, whether permanent or temporary this can often result in emotional or psychological trauma. If you have experienced an allergic reaction to beauty treatments then please see our page on 'allergic reactions'.
When should you claim compensation for a cosmetic burn?
When you go for a cosmetic procedure, especially if it's a treat to yourself, the last thing you expect is to suffer a burn. Your salon has a duty to keep you safe during your procedure and beauty professionals are trained to avoid cosmetic burns but sometimes, things can go wrong, and injuries can occur. Being burnt at a beauty salon is never a good thing and it may be an idea to look into some sort of compensation.
So, how do you go about getting compensation for a cosmetic burn? Here's what you need to consider if you have recently suffered a cosmetic burn and are thinking of claiming.
What constitutes a cosmetic burn claim?
Due to the large range of treatments that many salons are offering their clients, there are a few common causes of cosmetic burns. These include laser burns, chemical burns and those caused by hot liquids such as wax. Laser burns in particular can be very hard to deal with and recover from. The type of cosmetic burn claim that you go ahead with will depend on the kind of treatment you were receiving at the time and the cause of the burn.
Salons are not heavily regulated and so burns are one of the most common injuries. There are a few ways that burns, and other injuries, such as allergic reactions and damaged hair, can be prevented, these include patch tests on the skin and the beautician ensuring they take all necessary preventative measures to keep the client safe. If the beautician does not adhere to safety precautions and there is evidence of this, you may be eligible to make a cosmetic burn claim.
How much can I claim for suffering a burn at a beauty salon?
If you have received a cosmetic burn at a salon, you might be eligible for burn compensation. Did you know that at least 50% of people who work in the UK beauty industry fall below qualification level 2? This lack of training can cause serious issues as many beauty therapists are learning on the job.
The amount that you will be able to claim for suffering a burn at a beauty salon will depend on the treatment that you were receiving and the severity of the burn. For example, a laser burn claim might offer a higher level of compensation than a wax burn. You might also find a chemical burn could offer an increased level of compensation if serious damage is caused.
The full amount that you will get in compensation will depend on various factors. If you decide to go with a cosmetic burn solicitor, they will offer you guidance on how much you can expect to receive.
How do I claim if I have suffered a burn at a beauty salon?
If you have been burnt at a beauty salon, you should start the process of claiming compensation as soon as possible. For a laser burn claim or any other kind of cosmetic burn, the process is quite straightforward. You will want to gather any evidence that you have on the accident including appointment cards and photographs of the injury. Take some photographs of the burn right away, before you attempt to treat it. Neglecting to do this can create obstacles in the claim process. Before you go through with your claim, we advise that you seek medical help. Your burn could be severe enough that you require treatment. If this is the case, you should also attempt to obtain records of this in order to build your case for your compensation claim.
Once you have gathered your evidence, you will be ready to start the claim process. It is important that you understand the kind of injury you have experienced and that you find the right solicitor for the job.
Make a claim for compensation today with our specialist beauty treatment solicitors
There are many types of claims that can be made for cosmetic injuries so you should never think that your case is too small. If you have experienced a cosmetic burn from a treatment you received at a beauty salon and are considering making a claim for compensation contact Shires Law today.
A member of our experienced team will help you decide on the right course of action to get the compensation that you deserve. We operate on a "No Win, No Fee" basis, so you won't need to pay any legal fees if your claim is successful. Contact Shires Law to day to find out more.
Contact us Today
If you want to speak to a caring but professional law firm who always puts you first, you should call us on 0800 285 1266 or complete our Free Online Enquiry Form and we'll be in touch shortly
About Us
Shires Law is a firm of dedicated and professional personal injury solicitors based in Mitcheldean, Gloucestershire offering face to face consultations either at your home or from serviced offices throughout Cheltenham, Gloucester, Cardiff, Bristol and the South-West. We are not a claims handler and our experienced team of personal injury solicitors will use all of their experience to assist and facilitate a concise and fair outcome.
Shires Law (Gloucester) Limited is a company registered in England and Wales, Registration No: 09587000. Our registered office is The Carlson Suite, Floor 4, Building 8, Vantage Point Business Village, Mitcheldean, Gloucestershire, GL17 0DD. We are authorised and regulated by the Solicitors Regulation Authority (SRA) No: 645660
VAT Registration No: 302 6804 33
Shires Law 2020. All rights reserved.
Services
– Serious injury claims
– Road traffic accident claims
– Accident at work compensation
– Industrial disease claim
– Personal injury compensation
– Holiday accidents
– Cosmetic beauty claims
– Hairdressing claim
– Terms & Conditions
– Cookie Policy
– Privacy Policy
Connect With Us
Floor 4 Building 8
The Carlson Suite
Vantage Point Business Park
Mitcheldean GL17 0DD
Telephone: 0800 285 1266​
Email: info@shireslaw.co.uk