Get in touch with us to see how we can help
Start your claim today

0800 285 1266
Whiplash is normally caused from being involved in a vehicle accident. Even a low speed collision can result in your head jolting violently, causing whiplash. It can take several hours or longer to feel the effects of whiplash and can get progressively worse as time goes by.
Shires Law solicitors are specialists in whiplash claims and have many years experience securing maximum compensation for our clients. We operate on a No Win No Fee basis, you will not be out of pocket whether you win or lose.
Approachable and professional personal injury law firm
focusing on the individual
Experienced team of personal injury solicitors
Face to face consultations
Operate on a No Win No Fee basis
What's the process of making an accident claim with Shires Law?
One of our experts give you a quick call to get the information they require
We evaluate your case and begin to proceed on a no-win no-fee basis
If successful you could claim up to £5,200.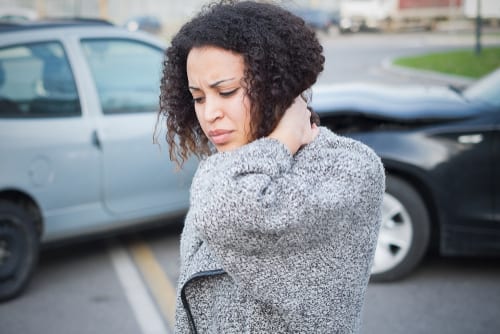 SYMPTOMS
Whiplash symptoms include:
Neck pain and stiffness in the neck
Loss of movement in the neck
Headaches
Dizziness and blurred vision
Difficulty breathing and swallowing
Muscle spasms
Pain in the shoulders, arms and back
If your symptom is not mentioned here it does not mean you don't qualify for compensation, our whiplash claim lawyers can help you to decide whether you have a valid claim.
It is also vital that you get appropriate rehabilitation for your whiplash injuries, a process which Shires Law can support you with to ensure you receive the treatment you need.
How Much Could You Claim?
Claim awards are largely dependent on the circumstance and severity of the injury. As a guide, severe injuries, such as severe whiplash trauma (permanent damage) can be potentially worth £97,500, compensation for less severe whiplash, usually those that will fully heal in a matter of months are generally rewarded within the region of £850 – £5,200.
Length of Claim
The length of a claim is again widely dependent on the situation and the injury, although rest assured that our car accident lawyers will deal with your case in the most time efficient manner. Claims for less severe injuries can typically be resolved within a few months, whereas a more severe injury could potentially take up to a few years.
How Do You Make a Whiplash Claim?
We can help with your claim; our advisors are on hand to talk to you by calling 0800 285 266.
What Can You Do to Help Your Claim
If you have been involved in a car crash, it is important to get as much information as possible. This will assist your claim and help your insurance company obtain the best outcome at a later date.
Some useful information to collect if possible is:
Time and date
Contact details of drivers, passengers, witnesses
Vehicle details (name, make, model, colour, registration number)
Insurance details of other person
The weather, light conditions
The collar number of the attending police officer
Identify the damage to the vehicles
Identify any injuries sustained
Contact us Today
If you want to speak to a caring but professional law firm who always puts you first, you should call us on 0800 285 1266 or complete our Free Online Enquiry Form and we'll be in touch shortly