Get in touch with us to see how we can help
Start your claim today

0800 285 1266
If you want to speak to a caring but professional law firm who always puts you first, you should call us on 0800 285 1266 or complete our Free Online Enquiry Form and we'll be in touch shortly.
Approachable and professional personal injury law firm
focusing on the individual
Experienced team of personal injury solicitors
Face to face consultations
Operate on a No Win No Fee basis
What's the process of making an accident claim with Shires Law?
One of our experts give you a quick call to get the information they require
We evaluate your case and begin to proceed on a no-win no-fee basis
If successful you receive a cash sum. Our average pay out is £22,000
When should you claim compensation for a bike accident?
Everyone deserves to be safe when they are out on the roads, yet accidents still happen. Each year over 22,000 cyclists are injured on UK roads. If you are an avid cyclist or you have already unfortunately been injured in a bike accident, you need to know what your options are in terms of starting a claim or seeking compensation. Especially if you were injured through no fault of your own, you will have the right to pursue a bicycle accident.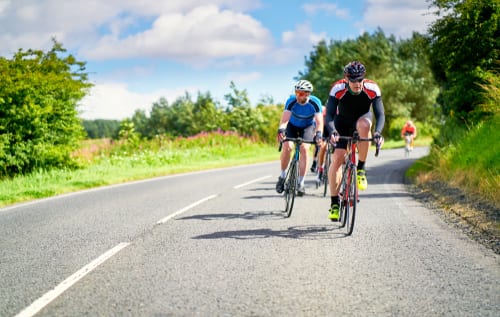 What defines a cycle accident?
A cycle accident is any injury that takes place involving you and your bicycle. It could involve a car, some other type of vehicle, or potentially another cyclist. Cyclists have a legal right to be on the road, but many drivers can become impatient when stuck behind one. This can sometimes lead to some dangerous driving manoeuvres, and potentially an accident.
Many factors can contribute towards a cycle accident. In addition to the other road users, the road conditions always need to be considered. Potholes in a road tend to occur towards the outer edges, where most cyclists ride. This requires them to then move away from the edge and closer to the middle of the lane which can be a far more dangerous place for them to be.
If there have been some adverse weather conditions, this could also prove to be a problem for cyclists. A poorly draining road could have standing water that creates an unsafe surface for road bikes and conceals hazards that would otherwise be avoided. Any of these could lead to a cycle accident that could cause significant injuries.
How much could I claim for physical damages from a cycling accident?
As with many other types of road accidents, there are various types of compensation that can be applied for when making a bicycle accident claim. One of the most common injuries that a cyclist can get from an accident on the road is whiplash. This generally results in a compensation pay-out of around £2500 depending on the severity of the injury.
However, there are many more injuries that can befall someone when they have been involved in a bike accident. Many cyclists do not have more than a helmet to protect them when they are on their bike. This means that a serious accident that causes them to come off their bike could bring some severe injuries with it.
Fractured ribs could award in the region of £2500, while arm injuries pay between £4000 and £90,000 depending on their severity. If you have to undergo an arm amputation because of your injuries, this could rise again to as high as £200,000. Leg injuries can also be quite severe and could award up to £180,000 for an amputation. Even with a helmet, there is the potential for a head injury. This could be anywhere between £1000 for a very minor head injury with no brain damage to up to £310,000 for anyone who is placed into an unresponsive state as a result of the injury.
This area of claim is usually referred to as general damages and will cover the pain and suffering that you have undergone as a result of the accident. It will also cover both physical and psychological trauma.
How do I open a claim for bike accident compensation?
Many forms of UK personal injury law have a statute of limitations applied to them. This means that the claim must be opened within three years of the accident to be able to progress. Though it can be difficult to relive some of the memories of the accident, it can bring you some much-needed closure in the long-term.
There are some exceptions to the statute of limitations. One of the major ones you need to consider is for children. A parent or guardian can make a claim for a child on their behalf if they are under 18. Otherwise, the statute of limitations begins on the claimant's 18th birthday, meaning that they have until they are 21 to file a claim.
There are other exceptions to the statute of limitations rules. If you want to know your options, you should discuss them with a cycle accident solicitor. They will be an expert in personal injury law who can tell you how to best proceed with the claim and will also be the one to help gather evidence. They will be by your side throughout the entire claims process. Finding the right solicitor will be a key part of your case preparation.
What other damages could I claim for after my cycling accident?
A bike accident claim is not limited to general damages. Some special damages may also apply. These are out of pocket costs that you might have had to pay as a result of your injury. These could include medical care and an adaptation of your home if needed.
However, some bike accidents could also result in you losing your current job and being left unable to apply for another. In this scenario, you would be able to file a claim for loss of earnings and even potentially loss of pension if you will be out of work for the rest of your life. Loss of earnings could award around a minimum of around £5000 if you are only out of work for a few months but could rise as high as £500,000 if the severity of your injuries means you are facing a long time away from work. In addition to this, you may be able to file for a claim of loss of future earnings. This could reward a similar amount and could help with some of the financial worries you may be facing.
Open your case today
Shires Law is a firm of professional personal injury solicitors, and we will be able to help you with a cycle accident claim. We are specialists in many other types of compensation representation too. Our depth of knowledge allows us to fight for the compensation pay-out and closure you need.. With a "No Win, No Fee" policy ensuring that you won't be out of pocket with your claim, you can be certain that we are ready to help you. Reach out to us today.
Contact us Today
If you want to speak to a caring but professional law firm who always puts you first, you should call us on 0800 285 1266 or complete our Free Online Enquiry Form and we'll be in touch shortly