Get in touch with us to see how we can help
Start your claim today

0800 285 1266
Damaged Hair Compensation
Shires Law can help you to claim hairdresser compensation. We operate on a No Win No Fee basis, you will not be out of pocket whether you win or lose.
Approachable and professional personal injury law firm
focusing on the individual
Experienced team of personal injury solicitors
Face to face consultations
Operate on a No Win No Fee basis
What's the process of making an accident claim with Shires Law?
One of our experts give you a quick call to get the information they require
We evaluate your case and begin to proceed on a no-win no-fee basis
If successful you receive a cash sum. You could receive up to £17,500
Hair dye gone wrong? Hairdressing is still an unregulated profession, meaning that anybody can offer his or her services as a hairdresser regardless of qualification. This means that there are many unqualified, under trained or simply incompetent hairdressers. Your hairdresser has a duty of care to take all reasonable measures to protect you and your hair; this could mean carrying out a skin patch or a hair strand test ideally 24 hours before the procedure to ensure that there will be no negative reactions. If your hairdresser has been negligent and you have suffered as a result then you may be able to make a hair damage claim.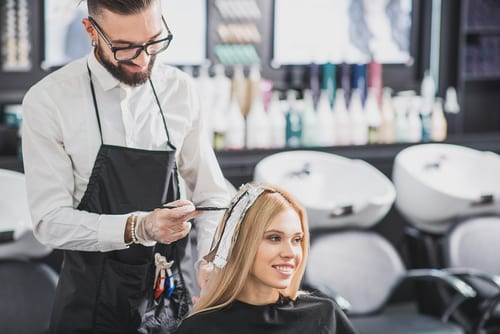 Common Causes
The main causes of hair damage include:
Incompetent/ unqualified hairdressers
Failure to carry out a skin patch/ hair strand tests
Lack of concentration
Symptoms
Some examples of damage that can occur from these causes are:
Temporary or permanent bald patches
Damaged hair follicles
Irritated/ burned scalp
Emotional/ psychological trauma due to disfigurement
When should you claim compensation for a hairdressing injury?
Burn injuries that happen as a result of a hairdressing mistake are very common. There is very little regulation in this industry and so many of our customers have been affected by such an injury in the past. Burn injuries can be very serious and range from first degree burns to third degree burns.
It is also possible to claim compensation against your hairdresser for other hairdressing mistakes including an allergic reaction as a result of a patch test not having been carried out or incorrect application of hair dye. If you have been injured during a visit to your hairdresser, then you might be eligible for hairdresser compensation. Here's what you need to consider when making hairdressing injury claims.
What kind of claims can be made against a hairdresser?
Hairdressers often use a variety of tools that reach very high temperatures. While they will do what they can to prevent a burn, mistakes can happen, especially in a busy salon. Some of the most common appliances that can cause burns include hairdryers, hair straighteners and curling tongs. Some of these appliances can get as hot as 450 degrees and so caution is required. For this reason, hairdresser burn claims are common amongst our clients.
Another frequently made claim for hairdresser compensation is in relation to the application of hair dye. Hairdressers are required to carry out a patch test on customers at least 48 hours before any treatment that includes paraphenylenediamine. If a patch test hasn't been done beforehand and a customer subsequently has an allergic reaction to a dye, there can be grounds for a claim. In the most extreme cases hospitalisation may be required and the resulting compensation may be high.
A further common claim against hairdressers is for overlapping hair dye. This is where hair dye is applied to previously dyed hair. It can cause the hair to become prone to damage. This usually occurs when roots are being touched up and the hairdresser is not careful. Some of our clients have experienced hair loss as a result and so were eligible for a larger claim.
You may also have grounds for making a claim if you have suffered damage to your hair and/or scalp during the bonding process of adding hair extensions. The incorrect use of strong chemicals when straightening hair can also mean you are eligible to make a claim. If you think that you have experienced an injury during a hairdressing appointment, you should get in touch as no claim is too small for us to investigate.
How much can I claim for being burnt by my hairdresser?
The amount that you can claim for suffering a burn at your hairdressers will depend on the damage done and the severity level of the burn. There are three types of burns with the most severe being a third-degree burn. It is important that you are aware of the severity of your burn in order to get the correct medical treatment. It is also advisable that you keep a record of any medical treatment you receive should you wish to claim against your hairdresser.
First degree burns are relatively mild, and most people will accidentally experience one in their lifetime. This type of burn only injures the outer layer of your skin or scalp, known as the epidermis layer. Though it may cause some discomfort, it should heal in about a week although it can take longer. For example, mild sunburn can be considered to be a 1st degree burn.
Second degree burns are more severe. This type of burn will damage both the epidermis and the dermis layer underneath it. In particularly serious cases, a skin graft may be needed as part of the treatment.
Third degree burns. This type of burn will damage both the dermis and deeper tissue. This means there is likely to be damage to associated parts of the body such as hair follicles or nerve endings. Due to the severity of these burns, skin grafts are nearly always required as part of the treatment. However, third degree burns as a result of a hairdressing accident are much less common. It is unlikely that a hair appliance such as straighteners can cause third degree burns.
According to the Judicial College Guidelines, claims in relation to damage to hair can award between £3,190 and £8,900. This will depend on the circumstances and the damage involved. The case will be assessed by our team and an estimate of how much you may be able to claim in compensation will be given.
You might find that a burn claim will require slightly different evidence than other hairdressing injuries and could award you a higher level of compensation. Minor burns can award you between £1,000 and £3,000. More severe cases could award you up to £80,000. We will always advise you on the expected level of compensation for your claim to give you an idea of what you might receive.
How do you make claims against hairdressers?
If you believe that you have been a victim of a hairdressing injury, you might be eligible to claim compensation. To start your claim, you must gather evidence such as photographs of the injury and you might need to offer samples of your hair for testing. We often advise that you don't try to remedy the problem before collecting evidence as this can be used against you.
It can also be useful to keep track of any appointment cards and information that you might have to prove when and where the treatment took place. This way, you'll be covered should you need to make a claim in the future.
Once you have gathered the necessary evidence, you should get in touch with a member of our team. Shires Law specialist solicitors have a lot of experience in dealing with claims against hairdressers and will get you the compensation you deserve.
We work on a No Win No Fee basis so you will only need to pay if your case is successful. Get in touch with one of our team of solicitors today and we'll get your claim started as soon as possible.
How Much Could You Claim?
The compensation you will be entitled to is widely dependent on the injury or illness you sustained and the manner in which it happened. An example of compensation an individual would be likely to receive for a fractured ankle that is making walking difficult would be between £8,700 and £17,500, whereas a minor undisplaced fracture to the wrist could result in around £2,300 to £3,125.
Length Of Claim
The normal time period by which an individual can claim for cruise ship compensation is 3 years under the Package Travel Regulations, however if the claim is to be brought in terms of The Athens Convention claims for a cruise ship injury or illness would have to be made within 2 years from the date of the injury. The length of your claim will also be dependent upon the injury or illness you suffered and the circumstances of the accident.
How do You make a claim?
We can help you with your food poisoning abroad claim; our advisors are on hand to talk to you by calling 0800 285 266 or via our Live Chat facility.
What You Can Do To Help Your Claim
Speak with a solicitor as soon as possible
If the injury was caused through a fall or unsafe surface, get pictures of the area
Record any witness details
Report injury or illness to the relevant member of staff on board
Seek medical attention as soon as possible for an initial professional diagnosis
If physiotherapy or rehabilitation is required due to your cruise ship injury or illness, we can provide you with an Immediate Needs Assessment and make sure you receive the required rehabilitation quickly and on a private basis.
Contact us Today
If you want to speak to a caring but professional law firm who always puts you first, you should call us on 0800 285 1266 or complete our Free Online Enquiry Form and we'll be in touch shortly
About Us
Shires Law is a firm of dedicated and professional personal injury solicitors based in Mitcheldean, Gloucestershire offering face to face consultations either at your home or from serviced offices throughout Cheltenham, Gloucester, Cardiff, Bristol and the South-West. We are not a claims handler and our experienced team of personal injury solicitors will use all of their experience to assist and facilitate a concise and fair outcome.
Shires Law (Gloucester) Limited is a company registered in England and Wales, Registration No: 09587000. Our registered office is The Carlson Suite, Floor 4, Building 8, Vantage Point Business Village, Mitcheldean, Gloucestershire, GL17 0DD. We are authorised and regulated by the Solicitors Regulation Authority (SRA) No: 645660
VAT Registration No: 302 6804 33
Shires Law 2020. All rights reserved.
Services
– Serious injury claims
– Road traffic accident claims
– Accident at work compensation
– Industrial disease claim
– Personal injury compensation
– Holiday accidents
– Cosmetic beauty claims
– Hairdressing claim
– Terms & Conditions
– Cookie Policy
– Privacy Policy
Connect With Us
Floor 4 Building 8
The Carlson Suite
Vantage Point Business Park
Mitcheldean GL17 0DD
Telephone: 0800 285 1266​
Email: info@shireslaw.co.uk