Get in touch with us to see how we can help
Start your claim today

0800 285 1266
Shires Law construction accident solicitors have many years of experience dealing with construction accidents and can help you receive financial compensation for the suffering caused by your injury. We operate on a No Win No Fee basis, you will not be out of pocket whether you win or lose. There is also no risk you will lose your job, as sacking someone who making a personal injury claim is against UK employment law and would be considered unfair dismissal.
Approachable and professional personal injury law firm
focusing on the individual
Experienced team of personal injury solicitors
Face to face consultations
Operate on a No Win No Fee basis
What's the process of making an accident claim with Shires Law?
One of our experts give you a quick call to get the information they require
We evaluate your case and begin to proceed on a no-win no-fee basis
 A successful less-severe injury claim  could result in a pay out of £2,500
Construction accidents are the most common cause of work related fatalities, accounting for over a quarter of all workplace deaths.
Each year thousands of workers are injured on construction sites across the UK with negligence being one of the primary reasons. If you have been involved in a construction accident due to negligence or through no fault of your own, you could be eligible to claim compensation for injuries, loss of earnings and other consequential losses.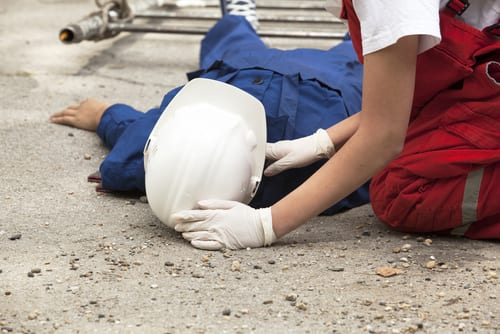 Common Causes
Construction sites pose a wide variety of potential accidents, some of the most common causes including:
Working at heights
Falls and slips
Falling equipment
Inadequate or faulty protective equipment
Inadequate risk assessment
Inadequate training
Heavy lifting and RSI
Symptoms
The most common construction injuries include:
Fractures and breaks
Back and neck injuries
Hand and arm injuries
Head injuries
If your accident is not mentioned here it does not mean you don't qualify for compensation, our construction accident lawyers can help you to decide whether you have a valid claim.
When Should I Claim Compensation for an Injury suffered as a Construction Worker?
Though construction sites have a strict set of health and safety rules in place, that does not prevent accidents from happening. If you have been injured on site, you may be able to put in a construction accident claim and receive compensation.
Why should I make a claim when injured at work on a building site?
Building sites are dangerous places; that is why there are so many pieces of personal protective equipment and regulations governing actions. However, this is not always enough to protect someone from suffering an accident. While severe injuries can happen in a standard workplace, they are more likely to occur on a construction site due to the proximity of potential causes such as heights, trip hazards, and heavy machinery. As a result, a back injury at work may be more crucial for a construction worker over someone in another career path, as that back injury may put the construction worker out of work for good.
If you have been injured on a construction site and the accident was not your fault, you need to think about filing a claim. Doing so could get you monetary compensation for both emotional and physical injuries. Claiming could also relieve some of the financial strains that may have come about as a result of your injury.
How do I claim if I have been injured on a construction site?
When you have been injured at work on a construction site, you may have had to undergo many months of recovery to get back on your feet after the accident. On top of this, there may have been mental stresses you have had to endure triggered by the accident. You may potentially also have had to make major changes to your life following the accident, you may not have been able to work during your recovery alongside the potential impact of loss of earnings in the future.
Each one of these problems can be addressed in your claim. You need to make sure that you find a good solicitor who is an expert in this area of personal injury law. A good construction accident solicitor will be able to go through each part of the accident, advise you of the steps that need to be taken and the compensation you could receive if successful.
As with many other aspects of personal injury law, there is a time limit of three years on this type of court case, though some exceptions can apply on a case-by-case basis. This means that the case must be started within three years of the accident for it to continue. You may have to relive the event in testimony or undertake an independent medical examination to assess the extent of your injuries. Though these can be difficult proceedings to undergo, some much-needed closure can also be granted, especially if you do receive compensation for your injuries.
How much can I claim for being injured on a construction site?
Many types of injuries can occur on a construction site, and compensation for construction workers will change depending on the type of injury received and how severe it was.
For example, a finger injury at work could award up to £27,925. Loss of function of a finger – or even losing the whole finger – could severely impact the way someone holds certain tools. Likewise, a foot injury claim could be made if a builder is left with a severe limp. This could grant upwards of £150,000 in compensation.
On the other hand, a head injury at work claim could come about as a result of someone being left unable to work or with even more impact on their ability to function on a day to day basis. A minor head injury could award £1000 but a more severe head injury could bring in over £300,000 in compensation. The same can be said for something like a neck injury at work claim, or someone seeking compensation for a back injury. Both of these types of injury could be severe and take a lot of time and rehabilitation to recover from. As a result, it is not uncommon to see sums upwards of £100,000 being awarded.
How do I make a claim?
Start your claim today. Shires Law are an approachable and professional personal injury law firm that, amongst other areas, specialises in construction worker injuries. If you have been injured at work on a construction site, speak to us about opening a case today. We may be able to help you get some closure and compensation following the incident. We operate on a "No Win, No Fee" basis, so you won't need to pay any legal fees if your claim is successful.
How do I make a claim?
Our advisors are on hand to help, to get started with your claim get in touch with us by calling 0800 285 266 or via our Live Chat facility.
What should I do if I am injured in a machinery accident?
Ensure any construction accidents are reported to relevant on site personnel (i.e. health and safety officer)
Make sure your incident is recorded in your companies accident book
It is important that you see a doctor immediately, no matter how minor you might think the injury seems
Keep a diary of your injury, include things such as pain levels, sleeplessness and activities you can no longer carry out or are disrupted by your injury.
Keep a strict log of all losses incurred due to your injury, such as loss of income, mileage of travelling to the GP or cost of employing somebody to do jobs you would have normally done yourself.
If physiotherapy or rehabilitation is required due to your construction accident, we can provide you with an Immediate Needs Assessment and make sure you receive the required rehabilitation quickly and on a private basis.
Contact us Today
If you want to speak to a caring but professional law firm who always puts you first, you should call us on 0800 285 1266 or complete our Free Online Enquiry Form and we'll be in touch shortly