Get in touch with us to see how we can help
Start your claim today

0800 285 1266
Repetitive Strain Injuries
Working in an office is hardly the most dangerous environment, but there are ways in which you may get an injury in an office and one of those injuries is repetitive strain injury (RSI), which may also be known as work-related upper limb disorder.
Approachable and professional personal injury law firm
focusing on the individual
Experienced team of personal injury solicitors
Face to face consultations
Operate on a No Win No Fee basis
What's the process of making an accident claim with Shires Law?
One of our experts give you a quick call to get the information they require
We evaluate your case and begin to proceed on a no-win no-fee basis
If successful you receive a cash sum. A pay out could be over £2,500
If you have RSI, you will be in pain when doing normal everyday tasks and this can make you feel irritable, upset and concerned about how you will get better. You will also be worried about the future of your job too, and what you will do if you cannot carry on working in your current role.
We do understand how concerned you will be about your condition, but we can help you to be clear about your legal position and make a claim for compensation if you are able to.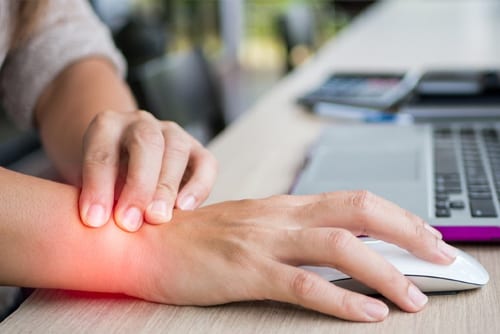 What Is Repetitive Strain Injury?
Although RSI is common in offices, due to the repetitive nature of sitting at a desk with a mouse and typing, you may suffer from RSI in other workplace environments too. People who work in a factory who are completing repetitive movements for many hours, may also suffer from RSI too.
There are two different types of RSI and they are Type 1 and Type 2. Type 1 is where your GP has actually diagnosed a medical condition from the pain and symptoms you are experiencing. These conditions may include carpal tunnel syndrome, tendonitis or bursitis. Type 2 RSI is where the doctor cannot give you a formal diagnosis because the only symptom is pain.
Your employer should be looking to minimise your exposure to these types of injuries, and there are circumstances where you may be more likely to suffer from RSI. Your employer needs to manage these risks to ensure that you are not injured at work. If your employer does not do this, you may be able to make a claim.
Should your condition affect both arms and continue on for some time, you may be awarded £10,000, but if your symptoms resolve within 3 years, a figure up to £7,700 is more likely. 
How Can Shires Law Help?
You may think that approaching a law firm and speaking to a solicitor will be daunting, but we are a friendly and approachable firm, who have many years of experience in helping people just like you. We offer all our clients a free initial consultation to discuss your situation with you and we'll be able to explain your position to you very quickly.
We have stayed small for a reason, and that is so we can continue to give the personal service to you that you expect. We do not employ non-qualified claims handlers, only qualified professionals who are experts in the field of personal injury and we know this helps us to ensure that you get the best service but that we also maximise your compensation too.
The law for funding personal injury claims has recently changed, which now means we cannot recover all of your legal costs from the other side. Do not let this put you off from making a claim though. Most of your legal fees are paid, and we will not ask for anything until you have settled your claim and received your compensation.
If you want to speak to a law firm who really cares about you and the service we give, you should contact us today.
Contact us Today
If you want to speak to a caring but professional law firm who always puts you first, you should call us on 0800 285 1266 or complete our Free Online Enquiry Form and we'll be in touch shortly