Get in touch with us to see how we can help
Start your claim today

0800 285 1266
We operate on a No Win No Fee basis, you will not be out of pocket whether you win or lose.
Approachable and professional personal injury law firm
focusing on the individual
Experienced team of personal injury solicitors
Face to face consultations
Operate on a No Win No Fee basis
What's the process of making an accident claim with Shires Law?
One of our experts give you a quick call to get the information they require
We evaluate your case and begin to proceed on a no-win no-fee basis
If successful you receive a cash sum. A simple claim could get you £4,000
Thousands of accidents happen each year in a variety of public places, such as on public transport, in public buildings, on parks or playgrounds, restaurants and shopping centres. A lot of these accidents could have been avoided had proper precautions been taken in the first place, generally speaking there will always be somebody or an organisation with which the responsibility lies to maintain a public place. If you have had an accident in a public place that you feel was due to neglect then our injury solicitors can help you to make a financial claim.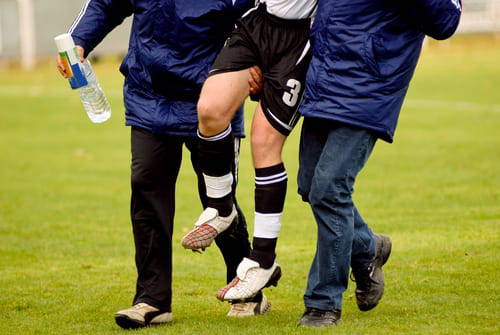 Common Causes
Many injuries are caused by somebody else failing to provide you with a safe environment, common examples include:
Faulty/unmaintained equipment at your local gym
Unqualified trainers
A violent/malicious competitor
Inadequate warm up routines
A trainer pushing a sportsman too hard
Symptoms
Injuries sustained during sporting activities can take on many forms, some of which are:
Lacerations
Fractures and breaks
Sprains
Paralysis
Muscle/ligament damage
How Much Could You Claim?
Sport injury claims can be rewarded with a variety of compensation amounts largely dependent on the severity of the injury you have suffered. An example of a typical payout for a simple Colles fracture would be in the region of £4,000 and a more serious injury, such as one resulting in paraplegia could be anywhere between £210,000 and £265,000. If you would like a more accurate assessment of your particular injury then our sports injury solicitors are on hand to help.
Length Of Claim
The length of proceedings is again very much dependent on the injury although our sport injury solicitors make it their priority to settle claims as quickly as possible. As a general rule, less severe injuries can be settled within a few months when the other party admits liability quickly. When liability is disputed it can result in court action and a longer claim. More serious injuries often warrant the use of extensive medical evidence and as such can take longer to settle.
How do You make a claim?
We can help you to get compensation for your accident in a public place; call today on 0800 285 266 or via our Live Chat facility.
What You Can Do To Help Your Claim
It is of the utmost importance that you seek medical attention as soon as possible to gain a professional prognosis of your injuries
Report your accident to the relevant officials or staff
Note down the contact details of any witnesses to the event
Where the injury has been caused by faulty equipment or a dangerous playing surface then pictures would be a valuable addition to your case
If physiotherapy or rehabilitation is required due to your sporting accident, we can provide you with an Immediate Needs Assessment and make sure you receive the required rehabilitation quickly and on a private basis.
Contact us Today
If you want to speak to a caring but professional law firm who always puts you first, you should call us on 0800 285 1266 or complete our Free Online Enquiry Form and we'll be in touch shortly