Get in touch with us to see how we can help
Start your claim today

0800 285 1266
Shires Law work accident solicitors have many years of experience dealing with falls at work and our lawyers can help you receive financial compensation for the suffering caused by your injury. We operate on a No Win No Fee basis, you will not be out of pocket whether you win or lose.  There is also no risk to your employment, as sacking an employee for making a personal injury claim is against UK employment law and would be considered unfair dismissal.
Approachable and professional personal injury law firm
focusing on the individual
Experienced team of personal injury solicitors
Face to face consultations
Operate on a No Win No Fee basis
What's the process of making an accident claim with Shires Law?
One of our experts give you a quick call to get the information they require
We evaluate your case and begin to proceed on a no-win no-fee basis
If successful you receive a cash sum. Our average pay out is £5,000
Working at heights presents a variety of potential accidents, however, in some fields of employment working at heights is a necessity that is unavoidable.
In jobs that involve working at heights, such as on scaffolding, up a ladder or on a roof, safety should always be of the utmost importance and the responsibility for that safety lies with your employer. There are clear regulations that govern your employers responsibilities and if they have failed in some way to keep you safe whilst working at height then you are entitled to claim compensation via an injury at work claim.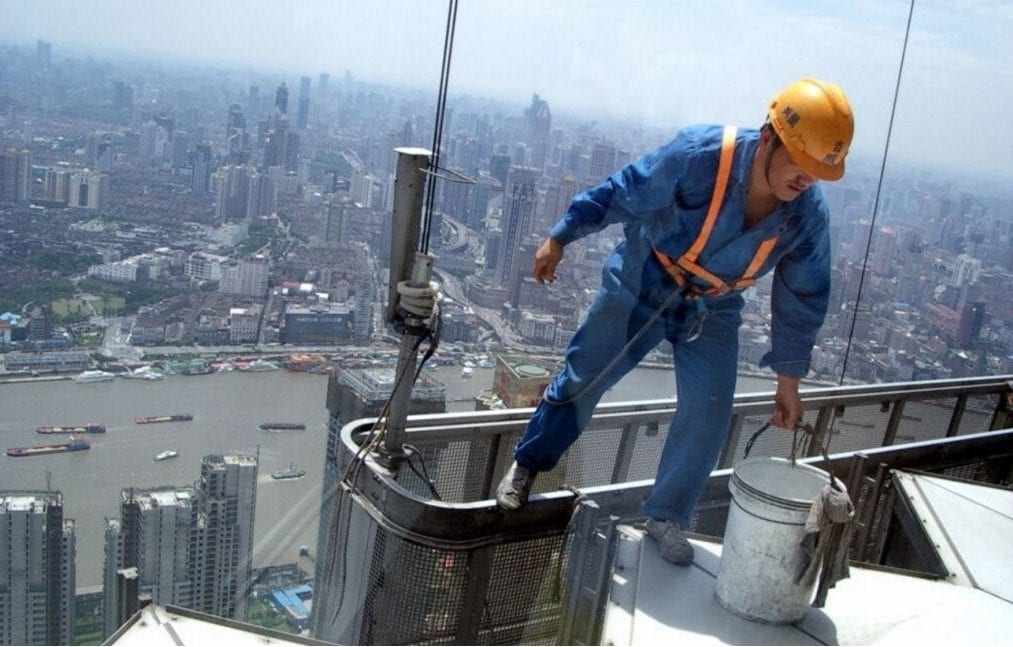 Common Causes
The main causes of falling from heights are:
Lack of safety barriers
Neglecting to provide safety equipment
Unmaintained or incorrectly erected scaffolding
Use of ladders not suited to the job
Unstable ladders
Symptoms
Typical injuries sustained from falling accidents:
Quadriplegia
Fractures
Breaks
Head injuries
When should you claim for a fall at work?
When you experience a fall at work, the resulting injurie can be very serious. Not only will you have to deal with the injury suffered at the time, but these injuries can also have knock-on effects such as financial loss. A fall at work can happen for a number of reasons and if it wasn't your fault, you could be eligible for compensation. If your place of work has not carried out proper risk assessment procedures or the employees are not working in line with safe working practices, you might have a case.
Fall at work claims are very common and we have a lot of experience in dealing with these kinds of cases here at Shires Law.
When should I seek compensation for a fall at work?
In order to claim fall at work compensation, your injury will need to be relatively severe. A simple slip and fall, without any real injury, will not usually be eligible for a claim. If you are in pain after a fall, it is safe to say that you could be eligible for a claim. We would also advise that you should seek medical advice.
Some of the most common causes of slips, trips and falls include trailing cables, poor lighting, contaminated floor surfaces and unsuitable floor coverings. Many of these things are the fault of the employer but employees can also play their part in causing hazards e.g. leaving large items that can prove to be a trip hazard. Usually, a risk assessment will highlight any potential issues but if one has not been completed, accidents are more likely to occur.
Falls at work can be extremely severe with a number of symptoms indicating that you might be eligible for a claim. Some of the most common symptoms include lacerations, sprains, fractures, concussion, back and shoulder injuries.
While some of these injuries are not life-threatening, they can cause additional issues further down the line. These include financial losses from not being able to work and curtailment of normal day to day activities. If you have fallen at work and have experienced any of these problems as a result, you could be eligible for compensation.
How do I claim fall at work compensation?
If you were injured at work as a result of a fall that wasn't your fault, you should begin the process of claiming compensation. The first step is to get in touch with a member of our team who will guide you through the process of claiming and gathering your evidence.
There are some things that you must do in order to validate your claim. This includes, your work's accident book, as your fall must be recorded in there and your fall must also be reported to the health and safety officer. Regardless of how severe your injury, you should seek medical help and keep a record of this for evidence.
When making your claim, it can also be useful to record some other important information. Have you encountered any financial losses such as loss of income as a result of the injury? Have you been sleeping as well as you were before the injury? If you are unsure about whether something is worth recording or not, get in touch with a member of our team who will be happy to clarify.
How much can I claim for a fall at work?
If you do decide to go through with a fall at work claim, you should know that it can be a lengthy process. A specialist doctor will need to assess your condition and determine the cause of your injury. Typically, we expect cases where injuries are seen as less serious to take around 4 to 5 months. In cases where an extremely serious fall at work has been experienced, you should expect the process to potentially take much longer.
The level of compensation that you will be able to claim for a fall at work injury will depend on the cause and the severity of the injury. As you would expect, injuries such as one that may prevent you from ever walking again will award a much higher level of compensation than a sprained ankle.
While each case will depend on various factors, we can estimate the kind of compensation you will get for some common injuries. For example, if you were to fracture your ankle, you could expect a pay-out of up to £8,000. Smaller cases like sprained ankles as a result of a fall in work can offer around £3,000.
If you are unsure about how much your claim is worth, you should contact a fall at work solicitor.
Make a claim for compensation today
No one should experience a fall at work but unfortunately for many, this can be a harsh reality. Falls can happen in any workplace, for example, offices, warehouses and retail stores. If you have experienced an injury as a direct result of a fall, you should get in touch with a fall at work compensation solicitor today.
Contact Shires Law today and a member of our professional and experienced team will help you decide on the right course of action to get the compensation you deserve. We operate on a "No Win, No Fee" basis so you won't need to pay any legal fees if your claim is successful.
How much could I claim?
Rewards are dependent on the severity of the injury sustained, an injury as debilitating as quadriplegia could fetch compensation in the region of £212,000 to £265,000, whereas a more minor injury such as a fractured ankle could be worth approximately £3,500 to £8,000. If you would like an approximation based on your personal injury from a fall then our advisors are on hand to help.
How long will it take?
The length of the claim is also largely dependent on the injury sustained. Claims begin once you have seen a specialist doctor who can assess your injuries and provide a definite prognosis. Less serious injuries, usually those that warrant a full recovery can be finalised within four to five months, more serious injuries can take a matter of years. Each case is individual although we will strive to make sure that your case is not dragged on any longer than necessary.
How do I make a claim?
Our advisors are on hand to help, to get started with your claim get in touch with us by calling 0800 285 266 or via our Live Chat facility.
What should I do if I am injured in a machinery accident?
Ensure the incident is reported to the relevant member of staff (i.e. health and safety officer or HR department)
Any injury, no matter how severe must be logged in the companies accident book
See a doctor immediately for a professional prognosis of your injuries
Keep a diary of your injury including such things as pain levels, sleeplessness or activities you find troublesome since your falling accident
Keep a strict account of any losses you have incurred as a direct result of your injury (i.e. loss of earnings, mileage travelling to a GP etc)
It is advisable if possible to take down the names and contact details of any witnesses to your accident.
If physiotherapy or rehabilitation is required due to a machinery accident, we can provide you with an Immediate Needs Assessment and make sure you receive the required rehabilitation quickly and on a private basis.
Contact us Today
If you want to speak to a caring but professional law firm who always puts you first, you should call us on 0800 285 1266 or complete our Free Online Enquiry Form and we'll be in touch shortly