Get in touch with us to see how we can help
Start your claim today

0800 285 1266
At Shires Law we have dedicated professionals who understand the pressure and stress that comes with being subjected to violence in the workplace. We operate on a No Win No Fee basis, you will not be out of pocket whether you win or lose. There is also no risk to your employment, as sacking an employee for making a personal injury claim is against UK employment law and would be considered unfair dismissal.
Approachable and professional personal injury law firm
focusing on the individual
Experienced team of personal injury solicitors
Face to face consultations
Operate on a No Win No Fee basis
What's the process of making an accident claim with Shires Law?
One of our experts give you a quick call to get the information they require
We evaluate your case and begin to proceed on a no-win no-fee basis
If successful you receive a cash sum. You could receive up to £5,700
Claiming Compensation for Violence in the Workplace
Experiencing violence in the workplace is unacceptable. Whether the incident occurs because of a member of the public or a fellow employee, you should never have to face it. We all have the right to feel safe and protected in our places of work. If you have been involved in a violent incident at work, you may wish to think about filing a personal injury at work claim to help with some of the costs – financial, physical, and emotional – that may have arisen since the incident.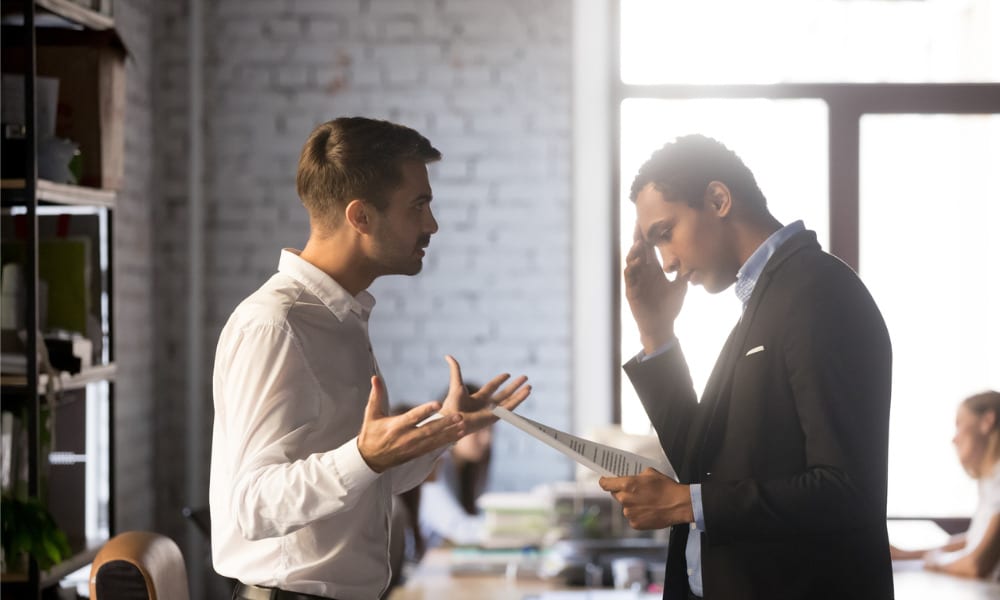 Common Causes
Violence in the workplace can occur in many different forms, usually resulting from sources such as:
Being understaffed
Negligence
Ignoring previous violent records
Lack of preventative measures
Symptoms
These causes can result in a variety of symptoms:
Bruising
Facial injuries
Other forms of physical injury
If your accident is not mentioned here it does not mean that you do not qualify for compensation. Our lawyers are experts in violence in the workplace claims and are on hand to help you decide whether you have a valid claim.
What constitutes violence in the workplace?
When making a claim for violence at work compensation, it is imperative that you understand what constitutes an act of violence. The claim is built on the knowledge that the incident took place, while the opposing parties in the claim will be trying to prove that it did not.
The UK's Health and Safety Executive defines work-related violence as "any incident in which a person is abused, threatened, or assaulted in circumstances relating to their work". This can include verbal threats in addition to physical attacks. Therefore, while someone may not have laid a finger on you, the verbal abuse you have endured may allow you to file a violence at work claim.
How much can I claim for violence at work?
Claims for violence in the workplace can be awarded on several bases. Firstly, you will receive General Damages. This is the compensation paid for the injuries in question and any pain or suffering these have caused. This can vary widely depending on the nature of the injury received.
For example, mental anguish – otherwise categorised as a fear of death and the expectation that your life will end – will typically award around £3500. A head injury at work claim can award over £300,000 depending on the severity of the injury and whether the brain was injured too. Meanwhile, an arm injury at work claim could be very minor and could have you fully recovered in under three months. Such an injury would award around £2000 in compensation.
With workplace injuries, mental and psychological trauma also needs to be considered. This could have a serious effect on the case, especially if there has been no physical violence but a repeated history of mental abuse. In this case, a person could receive between £1000 and £90,000 in compensation. The lower end of this scale could have been for a minor incident that has had minimal impact on the person's life. The higher end could be awarded for serious damage to a person's life and wellbeing, including trauma that they will have to endure for the rest of their life.
In addition to these, compensation may be paid for loss of earnings, travel expenses, and medical expenses that have come about as a result of the incident. If you have required counselling or other forms of therapy as a result of facing verbal abuse at work, compensation could be granted to you.
Who is responsible for a violence at work claim?
With any personal injury claim, it is important to establish who is at fault as they will be the ones liable for paying compensation. If the incident in question is a violent incident at work, this means that there has been a failure in the duty of care by your employer.
It is down to your employer to keep their employees safe from attacks and other incidents. Even if it is a member of the public or a customer who is responsible for the attack, the responsibility falls on your employer as there should have been measures in place that kept you safe.
Due to the strict laws in place that employers need to follow to protect employees, any incidents will only highlight negligence on your employer's behalf in one of these areas. As a result, your employer will always be liable, no matter who it actually is who is the cause of the violent incident.
What do I have to do to start a claim?
Starting a claim against your employer will take a lot of strength, but it can be an important step in receiving justice for verbal or physical violence you have faced in your workplace. You may be worried about opening a case – especially if it is against your current employer. This should never be an issue. The vast majority of the time, employers will have insurance to help protect them against claims such as yours. Employers also cannot fire someone for opening a claim against them this would be grounds for an unfair dismissal claim (a different type of claim to personal injury).
Opening a claim will mean that a claimant will have to revisit the incident. You may also have to undergo independent evaluations from physicians and psychologists to determine your wellbeing following the incident. This can cause feelings of trauma to resurface and make it very difficult to keep moving forward.
Luckily, you will have a sympathetic solicitor on your side. They will support you through the case and will help to receive the compensation you deserve.
Open a claim today
Shires Law is a professional personal injury law firm that focuses on the wellbeing and needs of each individual claimant. Speak to us if you wish to open a case concerning a violent incident you have suffered at your place of work. Our "No Win, No Fee" policy means that you will never be out of pocket regardless of the case's outcome.
How do I make a claim?
Our advisors are on hand to help, to get started with your claim get in touch with us by calling 0800 285 266 or via our Live Chat facility.
What can you do to help your claim?
All incidents should be reported to the relevant personnel (i.e. health and safety officer or HR department)
Any personal injury needs to be logged in your companies accident or incident book
See a doctor immediately and get a professional assessment of your injuries
Keep a diary of your injuries, include things such as pain levels, ailments, sleeplessness or activities you find you can no longer carry out
Keep a strict log of any losses incurred during your claim or as a result of your injury
If physiotherapy or rehabilitation is required due to violence at work, we can provide you with an Immediate Needs Assessment and make sure you receive the required rehabilitation quickly and on a private basis.
Contact us Today
If you want to speak to a caring but professional law firm who always puts you first, you should call us on 0800 285 1266 or complete our Free Online Enquiry Form and we'll be in touch shortly