Get in touch with us to see how we can help
Start your claim today

0800 285 1266
If you want to speak to a caring but professional law firm who always puts you first, you should call us on 0800 285 1266 or complete our Free Online Enquiry Form and we'll be in touch shortly.
Approachable and professional personal injury law firm
focusing on the individual
Experienced team of personal injury solicitors
Face to face consultations
Operate on a No Win No Fee basis
What's the process of making an accident claim with Shires Law?
One of our experts give you a quick call to get the information they require
We evaluate your case and begin to proceed on a no-win no-fee basis
If successful you receive a cash sum. Our average pay out is £22,000
Have you have been involved in a car accident or crash? Other road users have a duty of care to drive carefully and safely and they are responsible for passenger safety within their car.
If someone is at fault, or has been negligent then we will be able to help you get compensation for your car accident claim. Compensation can include damages for your injuries, damage to your vehicle, potential loss of earnings, rehabilitation treatment and replacement vehicle hire.
Should your car accident leave you without a vehicle and you need one immediately, we can arrange a replacement vehicle be sent to you straightaway. Our providers will aim to match the replacement vehicle with your existing vehicle as closely as possible and this will include prestige vehicles. Speak to us before your insurers as we could help you to avoid paying your insurance excess upfront.
Shires Law solicitors are car accident injury claim specialists and have many years of experience in securing maximum compensation for our clients. We operate on a No Win No Fee basis, you will not be out of pocket whether you win or lose.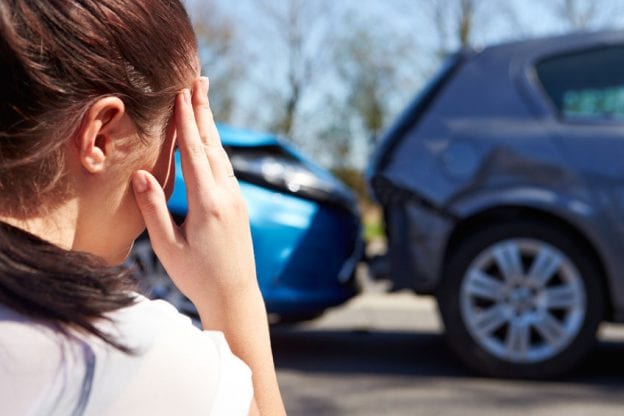 SYMPTOMS
Car accidents pose a wide variety of potential injuries, some of the most common including:
Neck pain and stiffness (Whiplash)
Back injuries
Internal organ damage
Fractures and breaks
Head injuries
Chest and rib injuries
Car accidents can also lead to you being off work or suffering financial loss due to damage to vehicles and property (including loss of earnings if your work transportation is damaged), we ensure that we take everything into account whilst working to make sure you get the compensation you are entitled to for your car accident.
If your accident is not mentioned here it does not mean you don't qualify for compensation, our car accident lawyers can help you to decide whether you have a valid claim.
When should you claim compensation for an injury obtained in a car accident?
Several scenarios could lead you to claim compensation for an injury received in a car accident. The vast majority of these claims can be placed if you were in a car accident, that was not your fault and you received injuries. Most of the time, these accidents will be caused by the conditions of the road or by another motorist.
You do not have to be the driver of a vehicle to claim compensation. If you were a passenger and the collision was no fault of your own, you can make a case for a car accident claim. A similar case can sometimes be made for pedestrians too.
When can I claim compensation for a car accident?
You will need to make the claim for compensation within a certain timeframe, as there is a statute of limitations in place. Claims for those injured in a car accident need to be placed either three years after the accident occurred or within three years of discovering an injury caused by the accident.
There are some exceptions that can be made to this. One of the main exceptions occurs if the car accident happened when you were a child. If so, you have three years after you turn 18 to place a claim. Before a child turns 18 a claim for compensation can be made by a parent or guardian on behalf of the child.
How do I make a claim for compensation for a car accident?
With the sheer number of cars on the road, you need to know the options available to you if you are injured in a car accident. This is a traumatic event that can cause life-long injury and issues, so it is important that you know the steps you can take to receive compensation.
If you decide that you wish to pursue a claim for compensation, and you are within the allowed timeframe, the first step you will need to make is to find a reputable car accident solicitor. They should be an expert at cases like these and they will be able to advise you of what you need to do. They will also be the ones to fight your case for you, so it is incredibly important that you choose well.
They will be able to advise you of some of the evidence that needs to be gathered to support your case. For General Damages, this will consist of detailed reports of your injuries. You may have to undergo an independent medical evaluation to corroborate the details in the original report.
For Special Damages, you will need to provide receipts for everything you have invested in out of pocket. Make sure you fairly and openly account for every expense you have had to cover. This creates a dossier that your car accident solicitor will be able to use as part of your claim.
How much can I claim for being injured in a car accident?
Compensation for a car accident can vary widely depending on the injury sustained. These injuries can be both physical and mental and can have a lasting impact on someone, so the level of compensation earned will reflect this.
One of the most common car accident injuries is whiplash. This can range from very mild cases to severe neck injuries and thus the compensation can scale to match. Those with mild whiplash could receive compensation somewhere around the region of £2500, while a more severe case could be awarded up to £100,000. You may also receive additional compensation towards any out of pocket expenses you may have received as a result of the accident.
A typical compensation award will, therefore, be made up of two distinct parts. General Damages will usually equate to the bulk of the claim. They will be awarded to compensate you for any pain and suffering you have received. Various factors will contribute to this calculation, including the body part that received the injury and the length of recovery time you needed. For example, a General Damages claim for an injured leg could recommend anywhere between £15,000 and £48,000 depending on the severity of the issue.
The other half of the claim will be Special Damages. These are out of pocket expenses that you may have had to pay for as a result of the accident. From therapy – be that counselling or physiotherapy – to home modifications and more, there is a whole raft of costs that could fall under Special Damages.
Make a claim for compensation today
If you have been injured in a car accident, within the last three years, that was not your fault and are considering making a claim for compensation, contact Shires Law today. A member of our experienced team will help you decide on the right course of action to get the compensation that you deserve.
We are an approachable and professional personal injury law firm, focussing on your individual needs. We operate on a "No Win, No Fee" basis, so you won't need to pay any legal fees if your claim is successful.
How Do You Make a Car Accident Claim?
We can help with your car accident claim; our advisors are on hand to talk to you by calling 0800 285 266 or via our Live Chat facility.
What Can You Do to Help Your Claim
If you have been involved in a car crash, it is important to get as much information as possible. This will assist your claim and help your insurance company obtain the best outcome at a later date.
Some useful information to collect if possible is:
Time and date
Contact details of drivers, passengers, witnesses
Vehicle details (name, make, model, colour, registration number)
Insurance details of other person
The weather, light conditions
The collar number of the attending police officer
Identify the damage to the vehicles
Identify any injuries sustained
Contact us Today
If you want to speak to a caring but professional law firm who always puts you first, you should call us on 0800 285 1266 or complete our Free Online Enquiry Form and we'll be in touch shortly