Get in touch with us to see how we can help
Start your claim today

0800 285 1266
Shires Law can help you with your slip, trip or fall claim. We operate on a No Win No Fee basis, you will not be out of pocket whether you win or lose. 
Approachable and professional personal injury law firm
focusing on the individual
Experienced team of personal injury solicitors
Face to face consultations
Operate on a No Win No Fee basis
What's the process of making an accident claim with Shires Law?
One of our experts give you a quick call to get the information they require
We evaluate your case and begin to proceed on a no-win no-fee basis
If successful you receive a cash sum. You could receive up to £4,500
Slips, trips and falls are caused by a variety of hazards, such as potholes and stray tree roots; raised paving slabs are a common trip hazard (generally they must be raised in excess of one inch in order to claim). It is your council's duty in accordance with The Highways Act to ensure that streets and footpaths are safe and to show that they have a regular system of maintenance, inspection and repair in place. If you have been injured due to a slip, trip or fall on the public highway and feel that your council has neglected to see or rectify the hazard, then you are entitled to make a fall claim.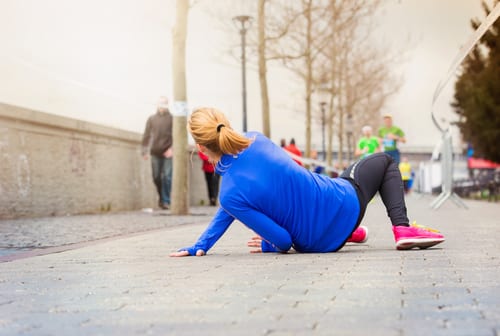 Common Causes
The causes of most common slip, trip or fall accidents are:
Uneven/ raised paving slabs
Potholes
Unsafe manholes
Lack of grit in icy conditions
Symptoms
Various injuries are sustained by slip, trip or fall accidents:
Fractures
Broken bones
Soft tissue damage
Head or facial injuries
Back pain
Hip injuries
A person could experience almost any type of physical damage in a slip, trip or fall, if you would like more information on your specific accident then our experts in falls claims can help.
How Much Could You Claim?
The amount of compensation that you stand to receive is very much dependent on the injury you have sustained. Compensation includes; firstly general damages, a lump sum awarded for your injuries and also for special damages, financial losses you have incurred as a result of your accident. An example of a common claim is soft tissue damage or a fracture resulting in a full recovery could be awarded up to £4,500, whereas an accident that causes permanent disability, such as persistent pains could gather in excess of £5,000.
How long will it take?
The length of the claim is also largely dependent upon the severity of your injuries. In these cases a letter is usually sent to the council, after which they have 21 days to acknowledge the claim and a further 3 months to investigate the claim, where liability is then admitted claims can then typically be resolved within a further few weeks. If liability is disputed and litigation becomes necessary then your case could take longer, however courts do work to have any proceedings to trial within 6 months for fast track claims under £15,000. Your case could also be delayed if the injury sustained is serious enough to warrant ongoing medical evidence.
How do you make a claim?
We can help with your trip claim. Get in touch with us today, by calling 0800 285 1266 or via our Live Chat facility.
What should you do if you suffer a trip or slip?
Seek medical assistance as soon as possible, no matter how minor your injury may seem it is important to get an initial professional prognosis
Obtain photographs and measurements of the area as soon as possible
If possible, get the contact details for any witnesses who may be aware of how long the hazard has been present for
Wherever applicable make sure that the accident is reported to a manager or supervisor to be logged in their accident book
Keep of a log of any losses you have incurred as a result of your accident and a diary of your injury
If physiotherapy or rehabilitation is required due to your slip, trip or fall, we can provide you with an Immediate Needs Assessment and make sure you receive the required rehabilitation quickly and on a private basis.
Contact us Today
If you want to speak to a caring but professional law firm who always puts you first, you should call us on 0800 285 1266 or complete our Free Online Enquiry Form and we'll be in touch shortly