Get in touch with us to see how we can help
Start your claim today

0800 285 1266
Dermatitis is a painful and irritating skin condition which many people suffer from at some point in their lives, but what if you are coming into contact constantly at work with the irritant causing your condition?
Approachable and professional personal injury law firm
focusing on the individual
Experienced team of personal injury solicitors
Face to face consultations
Operate on a No Win No Fee basis
What's the process of making an accident claim with Shires Law?
One of our experts give you a quick call to get the information they require
We evaluate your case and begin to proceed on a no-win no-fee basis
If successful you receive a cash sum. A pay out could be over £2,500
You will probably be feeling upset and worried about your condition but also worried about what this means for your future in the job role you are currently and this will be a huge concern, especially if you feel it is your vocation.
We can help you to understand if you are able to make a claim for compensation and also understand what options you have in relation to your job and what you can expect from your employer too.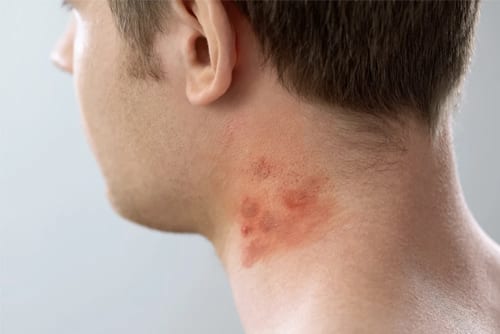 What Is Contact Dermatitis?
This is a skin condition which can be caused by exposure to an irritant or by an allergic reaction to a substance. Most contact dermatitis is caused by an irritant though.
Once your skin has come into contact with the substance, your skin will become:
Cracked
Red
Blistered
Inflamed
Thickened
Dry
This will probably happen with 2 days of the initial contact with the substance, although you may get contact dermatitis over prolonged contact with some substances used at your work.
What Can My Employer Do To Help?
There are certain types of jobs where contact dermatitis is more likely to happen. If you regularly work with chemicals or have to carry out work where your hands are wet a lot, for example as a hairdresser or a nurse.
If you have been diagnosed as having contact dermatitis it is important that your employer reacts to your diagnosis and helps you to try to minimise your exposure to the irritant or the thing you are allergic to. They may be able to provide you with protective equipment or clothing such as gloves to minimise your exposure or if you are allergic to latex for example, to provide you with latex free gloves.
If your employer does not help you or try to minimise your exposure, you may be able to claim compensation because the condition can become extremely distressing and the treatments can have side effects too.
If your condition is resolved by your employer minimising your exposure with minimal itching and improvement within a few months, you may expect around £2,500. However, if your condition continues for years, is extensive and affects your employment may receive up to £13,500.
How Can Shires Law Help?
We know how upset you must be about your condition and we will be able to help you to understand what you can do about it and whether you are able to make a claim for compensation.
Our law firm has stayed small by choice because we know that we can provide you with a better service. Our professional and experienced team of personal injury solicitors will be on hand to make sure that you get the best outcome possible. We don't employ claims handlers like some of the bigger forms, because we know you expect only the best when looking to instruct a solicitor.
You will probably be concerned about how you will afford to make a claim for compensation, but we will be able to recover most of your legal costs from the other side. We cannot now recover all our costs from the other side, due to a change in the law, but we won't ask for the small part that we cannot recover until you have settled your claim and received your compensation.
We offer you a free initial consultation to discuss your legal issues and offer you advice on where you stand.
Contact us Today
If you want to speak to a caring but professional law firm who always puts you first, you should call us on 0800 285 1266 or complete our Free Online Enquiry Form and we'll be in touch shortly