Get in touch with us to see how we can help
Start your claim today

0800 285 1266
Shires Law burns compensation lawyers are on hand to help you with your claim. We operate on a No Win No Fee basis, you will not be out of pocket whether you win or lose. There is also no risk to your employment, as sacking an employee for making a personal injury claim is against UK employment law and would be considered unfair dismissal.
Approachable and professional personal injury law firm
focusing on the individual
Experienced team of personal injury solicitors
Face to face consultations
Operate on a No Win No Fee basis
What's the process of making an accident claim with Shires Law?
One of our experts give you a quick call to get the information they require
We evaluate your case and begin to proceed on a no-win no-fee basis
If successful you receive a cash sum. Our average pay out is £5,000
Burns are a common hazard in many workplaces throughout the UK and can occur from a number of causes, such as fires, contact with hot equipment, chemical burns, electrical burns and radiation burns. Most workplace burns occur needlessly and could have been prevented had the correct measures been taken in the first place. If this was the case with your injury then we can help you to claim burn injury compensation for your injuries, potential loss of earnings and other consequential losses.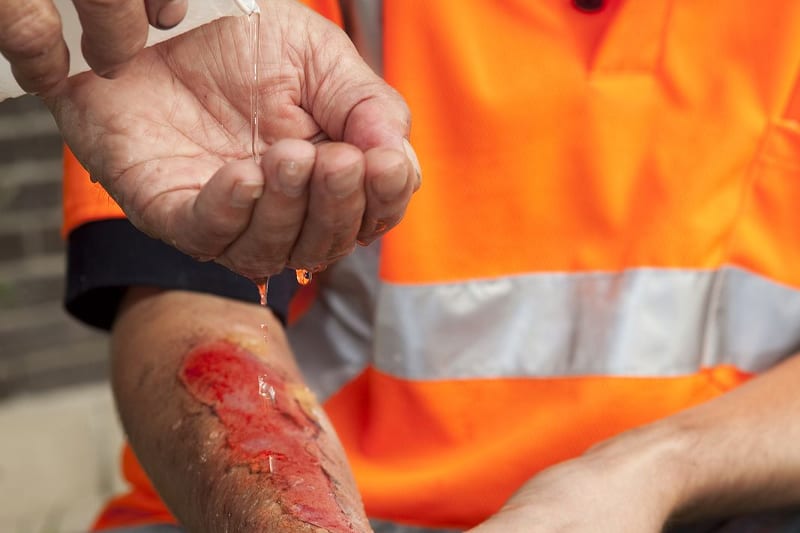 Common Causes
Common causes of being burned at work include:
Handling hot liquids without proper protection
Hot surfaces being exposed
Improper use of corrosive chemicals
Unsafe electrical equipment
Symptoms
Burns can affect the body in numerous ways, including:
Scalded/ burnt flesh
Facial and eye burns
Respiratory burns
Emotional and psychological effects
Tendon, ligament or muscle damage
There are numerous ways a person can be burned at work including some not mentioned here, for more information relating to your specific accident get in touch with our lawyers who can assess you and your burns compensation claim.
How much could I claim?
The amount you could potentially receive as compensation for burns is dependent on the extent of your personal burn injury and each case is unique. Burns are rated on a scale of first, second and third class degrees. Your claim will comprise of two elements; general damages, a lump sum payment by way of compensation for your suffering and injuries and special damages, also known as out of pocket expenses, financial losses as a direct result of your injury (i.e. loss of earnings and medical expenses). Severe burns to the face could result in compensation of up to £64,000, whereas less severe burns could attract and award of up to £6,000.
How long will it take?
Determining the length of a claim presents many difficulties; our lawyers are experts in burns compensations and will always do their utmost to settle your claim as quickly as possible. Each case is different and there are a number of factors that play a role in the length of a claim, such as whether or not the other party has admitted fault and the severity of your injuries.
How do I make a claim?
Our advisors are on hand to help, to get started with your claim get in touch with us by calling 0800 285 266 or via our Live Chat facility.
What should I do if I am injured in a machinery accident?
Ensure your accident is reported to relevant on site personnel (i.e. health and safety officer)
Make sure the incident is recorded in your companies accident book
It is important that you see a doctor immediately, no matter how minor you might think the injury seems
Keep a diary of your injury, include things such as pain levels, sleeplessness and activities you can no longer carry out or are disrupted by your injury.
Keep a strict log of all losses incurred due to your injury, such as loss of income, mileage of travelling to the GP or cost of employing somebody to do jobs you would have normally done yourself.
If physiotherapy or rehabilitation is required due to being burned at work, we can provide you with an Immediate Needs Assessment and make sure you receive the required rehabilitation quickly and on a private basis.
Contact us Today
If you want to speak to a caring but professional law firm who always puts you first, you should call us on 0800 285 1266 or complete our Free Online Enquiry Form and we'll be in touch shortly